Shanghai-based Angela Sy always thought she was a dog person until she fostered a bullied cat named Floki. Five years later, she is the proud paw-rent of two cats, Popo (a mixed breed) and Tofu (an American shorthair), and continues to rescue other strays in need of new homes.
Help out by donating to Jaiya's Animal Rescue (JAR)
With your help, JAR can protect and improve the health and welfare of neglected animals living in China.
Waldo's Friends (WF): How did you first come across Popo?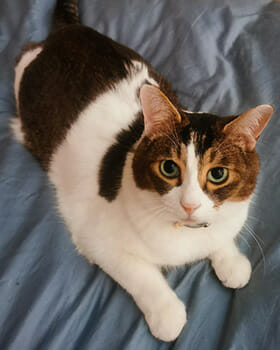 Angela Sy (AS): Popo was one of the street cats who lived in Longhua Temple in Shanghai. My friend Jasmine rescued him because she thought he was pregnant. Turns out, he was just fat from all the sweets and unhealthy food he was given by temple visitors.
 
Popo was called Floki back then. He stayed at Jasmine's house, but her other rescues bullied him so he had to stay in a cage all day. He became very depressed. Jasmine brought Floki to adoption days for JAR (an animal rescue organisation I was volunteering for back then) and asked me if I could foster him for a few months, just so he could get out of his cage.
 
I've always been a dog person. I didn't know how to live with cats. I just said yes 'cause I was too shy to say no. Plus, I was living by myself so I thought, "Why not?" Eventually, I fell in love with him and officially adopted him. I'm basically a foster fail.
WF: Did you experience any problems when you first adopted Popo?
AS: Honestly, none at all. Cats are easy. Popo is a sweetheart and everyone who meets him loves him. Even my mom who said she hates cats now take naps with Popo.
My only hardship was introducing Tofu to Popo. We found Tofu roaming around a friend's compound. He had been living outside for around three weeks, and was very friendly to people, so obviously he had an owner. We tried looking for his owner, printed posters, talked to building guards. We couldn't find his owner, so in the end, I took him in.
To this day Popo and Tofu still have the odd scrap, and while they will never be cuddly to each other, I know they miss each other when I take Tofu to the office.

WF: Could you talk more about your unique office set-up?
AS: Our office allows us to bring pets, so sometimes, we all bring our rescues in. It's a ton of fun, but no one gets any work done. The office has a lot of cat ladies. When we find lost or injured animals, we bring them back to the office and try to find them homes. Eventually, a colleague will come play with the animal and then fall in love and want to adopt it.
We have a new young colleague who recently joined the company, and she and her boyfriend ended up adopting two kittens that we found abandoned by their family. Currently, our meeting room has a total of four kittens, and when we get stressed we just pop in there and get cuddle time with Kimchi, Riceball, Dango, and Nori.

WF: Why would you personally encourage adopting animals instead of buying them?
AS: Because most animals sold at pet shops are purposely bred, and their breeding mothers locked up in cages, in pain, ill, malnourished, and forced to give birth over and over again until they die. My friend once rescued a purebred toy poodle who was blind, skin and bones, covered in mange, and staggering under a bridge in the trash. When they found her, she had just given birth a few weeks ago. The vet said she must have given birth several times already at her young age.
Another friend bought a Shiba puppy for 3,500 RMB. Turns out, she had parvo and died within three weeks. Meanwhile, my colleague bought a black kitten from a pet shop which fell sick after a few days and died within a week. I'm not saying all pet stores are fraudulent, but in China, it is a well-known practice to drug sickly animals and sell them off before they die.
WF: Any advice for people thinking of welcoming a rescue animal into their home?
AS: Do it. Rescue pets love you harder because they know what it's like to be without a home. My adult rescues are so sweet, cuddly, and grateful for having a safe home.
WF: How has adopting your cats changed your life?
AS: I've definitely liked staying home more often. Sometimes I'm conscious about how late it is or how long I've been out, and want to rush home to feed and cuddle my boys who I know are waiting for me.
Living in China was all the push I needed to start rescuing animals. Popo started me on the path of pet rescue, just because I met so many other rescuers from the organisation. Lots of pets get abandoned for a multitude of reasons (i.e. a family member falls pregnant and they think pets are unhealthy for babies; a dog barks too much; a cat scratches; a cat is in heat) and if they are young, the winter time could be deadly for them. I try not to adopt too many of my rescues. Instead, I make it a point to find them homes because I tell myself I will always need the extra space in my home for the next rescue I find.

Read more rescue stories here! Do you know of an interesting pet adoption, foster, or rescue story? Share your suggestion with us by commenting below!