Hoping to spread awareness about senior and special needs pet adoptions, Paige Graham is a proud mother of handicapable animals. The Florida-based vet nurse turned soap and ice cream maker shares her unique experiences with her fur family on Instagram, and highly encourages people to adopt special needs rescue animals with a hashtag we've fallen in love with: #adopttheweirdones (a phrase she coincidentally used for her new and improved website). Paige spoke with Waldo's Friends to share how she got into adopting "unwanted" animals and growing her pack.
Help out by donating to Limbo Chihuahuas
With your kind assistance, Limbo Chihuahuas can continue to educate adopters and the community about spaying and neutering of animals.
Waldo's Friends (WF): We loved reading about your misfits and want to know more about your very first, Peter Jennings. Could you tell us about how you found him?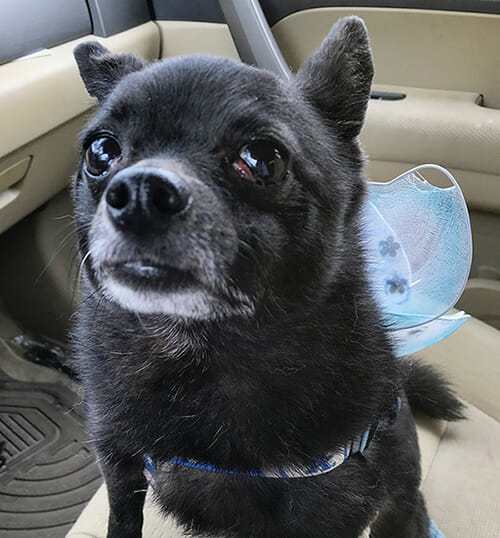 Paige Graham (PG): Peter Jennings came to me shortly after I graduated college. I was working in a restaurant at the time, and one of our regular customers told me that his dog had recently given birth and he didn't know what he was going to do with the puppies. I had my first real apartment at the time, and thought I was finally a true adult that could handle the responsibility of a dog. I offered to take the litter, and the next day, I found myself bringing two tiny, six-week-old puppies home in an old crock pot box. Peter was chubby, loud, and stubborn as an ox. I had found my spirit animal. A coworker with a soft spot for litter runts adopted Peter's brother, and that was my very first experience finding a home for an "unwanted" animal.
WF: How did you decide to make a home and rescue hub for the "weird ones"? Was it a conscious decision or did you keep falling in love with the different members of your crew each time?
PG: I think I've kind of always been drawn to the "weird ones" in many aspects of my life. I'm a weird little person that likes weird little animals. One of my favorite cartoons as a child was Underdog, so maybe that had something to do with it. 
My rescue work gradually evolved over the years as I volunteered and fostered for different rescues and shelters. I saw how difficult it was to place "less adoptable" dogs, even when the only thing "wrong" with the animal was a purely cosmetic issue. It absolutely broke my heart, and motivated me to start adopting and advocating for senior and special needs animals, and eventually to found my own rescue.
WF: You've adopted from a range of different shelters. Could you tell us how you've become a part of this community?
PG: I am lucky to live in a very pet-friendly area of Florida where the majority of residents are animal lovers to some degree. There are several breed-specific rescues and no-kill shelters where I live, so the opportunities to get involved have been pretty endless.
Charlie was the first dog with spinal injury that I ever took in, and he was from Limbo Chihuahua Rescue. Adopting that dog honestly changed my life. It's hard to describe the bond you form with an animal that relies on you for so much; it's just incredible. He's the happiest, bravest dog I've ever met, and it's impossible to be in a bad mood when he's around. Charlie has helped me see that animals don't attach an emotional element to an injury or physical ailment the way humans do, and as such, they don't ever think that they "can't" do something. They just go for it. Charlie sees the ball being thrown, and he goes after it without hesitation—even when his back legs don't work! I want to be more like Charlie when I grow up.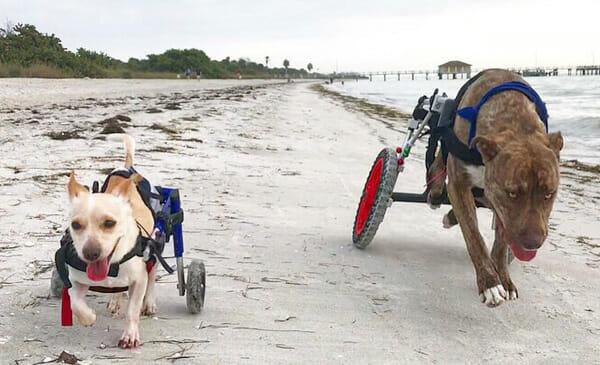 WF: Could you also share some tips on how to socialise special needs pets with other dogs in the house? Would you recommend keeping newcomers in a safe space before they fully assimilate with the whole family?
PG: It's definitely important to take an animal's special needs into consideration when introducing them to your existing pack. You want to make sure your special needs pet has plenty of space and feels secure at all times, especially if they have a vision or mobility issues.
It's also a good idea to temporarily quarantine any new animal that is brought into your home to prevent the spread of communicable diseases. I've found this quarantine period to be an excellent time for new animals to adjust to my home and all the new smells and sounds that come with it. Once I'm sure an animal is healthy, I begin by introducing them to my most territorial animals at a neutral location like a dog park. I've found that walking dogs together (even if it's senior pets being pushed in adjacent strollers) really helps dogs to bond with each other.
WF: From running the rescue and foster efforts to doggie ice cream, misfit soaps, and working as a nurse, could you tell us about how you manage your time? We'd love some tips!
PG: I definitely stay busy, that's for sure! I truly love everything I do, so none of it ever really feels like "work" to me. In the last year, I've backed off on the majority of my nursing work to focus on my rescue efforts. The dog ice cream business and soap shop are two ways that I've been able to generate income for my rescue while still doing things that I love.
There are times when any caregiver needs to take a break, however, and I'm no exception. I'm not always the best at realising when I need to take a moment to breathe, and that's something that I'm trying to work on. In a few days I will be having surgery to correct some injuries I sustained in a car wreck earlier this year, and that has kind of forced me to slow down and take a breather. It's also made me value my health a lot more, and I definitely admire my special needs animals all the more now that I've been sidelined by injury!
WF: We'd also love to know more about your advocacy work as a special needs dog mum. Do you find that the mainstream media is keen to discuss these issues?
PG: I think the mainstream media has become far more accepting and even encouraging of special needs animal adoptions over the last few years. I think there was a time when people thought it was "too sad" to see a dog in a wheelchair, but I feel we're evolving to a point where we can look at that paralyzed dog now and say "look how happy he is!" instead of "poor baby!" The website The Dodo has been hugely supportive, and I'm incredibly grateful for all the awareness they have brought to senior and special needs pets.
WF: From Olive to Alice Cooper, you've also had a few cats on your feed. How has this cat mom experience been for you?
PG: I never thought I'd end up a crazy cat lady! I was always The Dog Lady… until a stray kitten with a broken leg showed up on my carport. The kitten had to have his leg amputated, so I brought him inside to live with my dogs. Now, Walter Croncat is a cherished member of our family, and I have a newfound affinity for stray felines.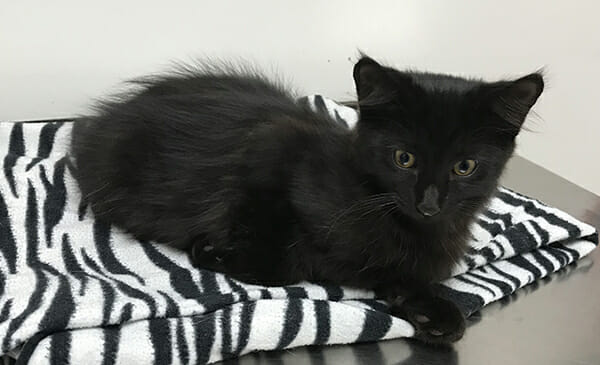 WF: What are your future plans with your crew and community? How can the rest of us best support people such as yourself to do more of this amazing work?
PG: I would love to be in a position soon where I can buy enough land to open a proper sanctuary for more of the "weird ones." My ideal existence consists of a few acres, a huge garden, and a swarm of senior and special needs animals.
 
I encourage people to seek out other rescues in their area, especially the smaller, foster home-based rescues with limited resources. Volunteering your time to foster a litter of kittens, drive an injured dog to a medical appointment, or hand out brochures at a rescue event is every bit as valuable as monetary donations. If you're unable to foster or perform the more physical tasks, it's always helpful to share adoptable animals on social media. Senior and special needs pets have a ton of love to give, so the next time you visit a shelter, I encourage you to give that snaggletoothed, three-legged, or one-eyed animal in the corner a second look.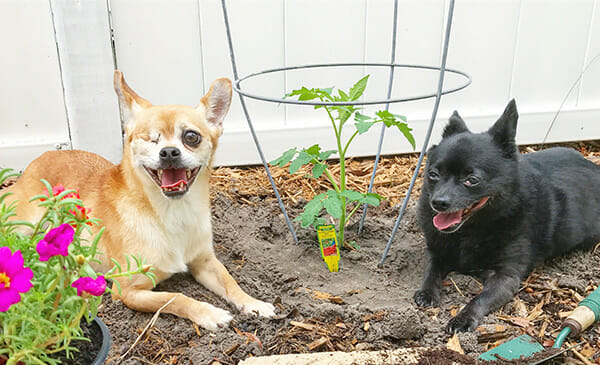 Follow the adventures of Paige and her family of misfits on fInstagram.
Read more rescue stories here! Do you know of an interesting pet adoption, foster, or rescue story? Share your suggestion with us by commenting below!