Hazel Iris Lim devotes most of her time to animals. Aside from taking care of four rambunctious dogs (Judy, Judge, Justice, and Jury) and selling customised pet and human couple shirts and natural pet supplements, the 27-year-old businesswoman found herself taking care of dogs that she and her friends rescued off the streets of Manila, Philippines. 

Hazel spoke with Waldo's Friends to reveal how she got into fostering and the joys and trials that come with the experience.
Help out by donating to Pawlanthropy
With your kind assistance, Pawlanthropy can spay and neuter more dogs and cats living in the Philippines.
Waldo's Friends (WF): Hi, Hazel! Could you share your fostering journey with us?
Hazel Lim (HL): I've had three rescue dogs under my care so far—Jay, Joseph, and June—who are all aspins. [Note: Aspin is short for Asong Pinoy, a common term for mongrel dogs living in the Philippines.] Jay was rescued from Pasig City Hall on April 14, 2016. Joseph was rescued from the streets of San Jose Del Monte, Bulacan on Aug 16, 2017. And June was rescued from Espeleta, Binondo on June 20, 2018.
To be honest, I only wanted to foster dogs that our group decided to rescue off the streets. We don't have an official name, but we are under Pawlanthropy Inc. We actually started by raising funds for a group of rescues in Imus, Cavite, which we called Imus 7. Then one day, someone sent a picture of Jay in our Whatsapp group. We decided to help him by catching him and bringing him to the vet, but we needed someone to foster him, so I volunteered. 
 
As of now, my current foster June is still up for adoption. He's the first foster pet that has stayed with me for the longest period. Unfortunately, he has some behavioural issues that we are still trying to work on. Plus, we also found out that he is epileptic.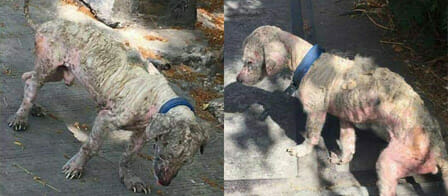 WF: What do you love most about your current foster pet, June?
HL: June is really smart. He loves to eat so much that within a few days at the vet (where he had to be treated), he had already learned how to sit and shake hands in exchange for treats.
WF: Since you already have your own set of pets, did you face any challenges with fostering these dogs you rescued?
HL: The biggest challenge for me is probably that my family isn't really crazy about dogs like I am. Another is that my existing pets have some behavioural issues, which admittedly takes up my time and energy, so I don't have enough time to care for June's issues. Unfortunately, I didn't have enough knowledge on how to introduce new dogs to your pack and to people, which is probably the cause of June's issues. Thankfully, even though my dogs have not fully welcomed June to the pack, they don't really have a problem with him either. Lastly, our current living arrangement is quite cramped. But we are moving to a village next year, so hopefully it would be much easier to walk and train the dogs together.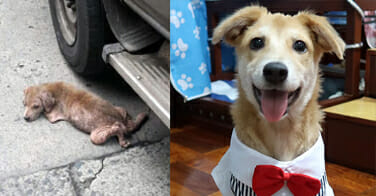 WF: As a foster parent, how do you know that it's time to give the dog away?
HL: The dogs become ready for adoption once they are healthy and spayed or neutered. Giving them away is the hardest part, but since I have a lot of dogs, I know that they will be in better hands with others. As much as possible, I give them to people who I know will take good care of them or at least have someone who can vouch for them. 
WF: Why would you personally encourage rescuing and adopting animals?
HL: I really recommend rescuing and adopting animals because there are just so many of them who never felt loved or were even really fed. Thankfully, there are a lot of strays that are taken care of, but there are also a lot who are left to suffer with mange, malnutrition, and even pain from being abused or run over.
 
Rescuing has not only given me a sense of accomplishment (that I've done a good deed), but has also given my rescues a brighter future. So it's a win-win situation for me! In my opinion, rescues are more intelligent and more loving than our spoiled pets.

WF: As a long-time paw-rent, what's your advice for people thinking of getting a pet?
HL: My advice is to first do your research and to figure out how to introduce the pet to the new environment and to your existing pets. Make sure that you have full control of your existing pets so it would be easier to introduce them to each other and have less risk of your new pet learning bad behaviour from your existing ones. Also, make sure you have the time and energy for all of them. As much as I love my dogs, I actually regret having more than two of them. Haha!

Follow the adventures of Hazel's pets—Judy, Judge, Justice, and Jury—and her foster dogs on Instagram.
Read more rescue stories here! Do you know of an interesting pet adoption, foster, or rescue story? Share your suggestion with us by commenting below!