Forty-one-year-old visual artist Bru Sim is one half of Electrolychee Studio. A novice urban gardener/food forest gnome based in Manila, Philippines, she and her husband Marcus have owned adopted cats since 2010, which helped prepare them for their human kitten, Duyan. Bru shares what it's like living in a home with babies of the furred and furless kind, and how she got into fostering and doing TNR projects on her own. 
Help out by donating to Philippine Pet Birth Control Center (PPBCC) Foundation
With your kind assistance, PPBCC Foundation can help control the animal population in the Philippines through neutering.
Waldo's Friends (WF): What's it like having a small child while living with cats?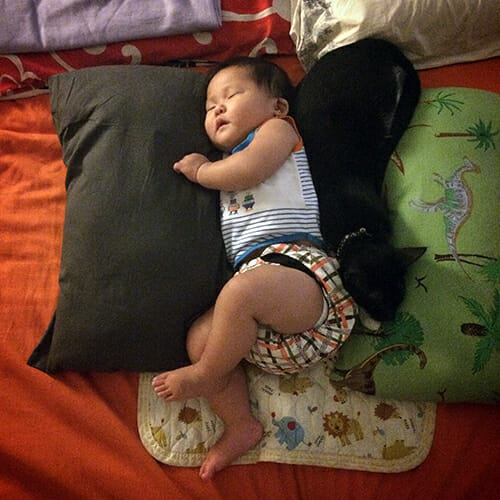 Bru Sim (BS): The pregnant pet lover's biggest dilemma: how to have both furred and furless babies. I dared to ask this question at a birth seminar sponsored by a well-known hospital. The doctor speaker, who was not a pet owner, frowned and said it's best to not have cats (i.e. dispose of the pet). Not satisfied with the rubbish answer and armed with a strong belief in #catsandbabies, I searched online and found Jackson Galaxy's response. It's basically preparedness 101 for any multiple pet owner: introduce your new "pet's" items (e.g. baby lotion, crib, clothes) first so that the senior cats will not freak out when the baby finally arrives.
Also, I found scientific articles detailing that babies exposed to pets before their sixth month of life will react less to pet dander. I was likewise confident that I could read our cats' behaviour around our infant. We saw our cats care for Duyan and sleep beside her lovingly. That is until she became a grabby one-and-a-half year old.
WF: How do you make sure it's a safe environment for both your child and your cats?
BS: You really can't 100% of the time. So:
Be prepared for scrapes.
Always have an attentive adult around when grabby, instinct-driven child and cat are together.
Keep your pets' nails trimmed and their vaccinations updated. Same for grabby child.
WF: How did your adopted pets come into your life?
BS: Our first pet was Babette, a smoke-coloured Persian cat a friend gifted us from her cat's litter. Extremely thoughtful, our friend gifted each adopter with a kitten kit (litter, food, toy). Her generosity helped set a tone of pet mindfulness for me.
Two years later, after we observed Babette stare too many times in the mirror looking at her own reflection, we adopted Lego, a stray kitten in our village. The next year, we adopted Einstein. You know there's a stray population problem if you end up adopting a kitten each year. We are now a household of five snipped cats and five unsnipped humans, including two helpers who care for the cats.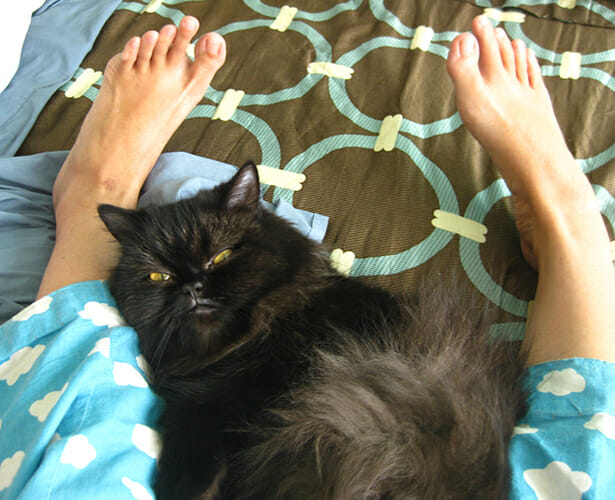 WF: How has your life changed after adopting animals?
BS: I honestly think it's the same as being an involved parent to a human child. It took us a couple of months before we decided we can be furparents to Babette. Our cats helped us on the path to human parenthood. This quote by Jean Cocteau also resonates truthfully with me: "I love cats because I enjoy my home; and little by little, they become its visible soul."
My husband and I believe in quality of care—of the pets, our household, and our mental states. It is of utmost importance. We accept that we cannot take in every stray out there, but that there are other ways to help. I think you have to steel your heart to be a successful adopter/fosterer.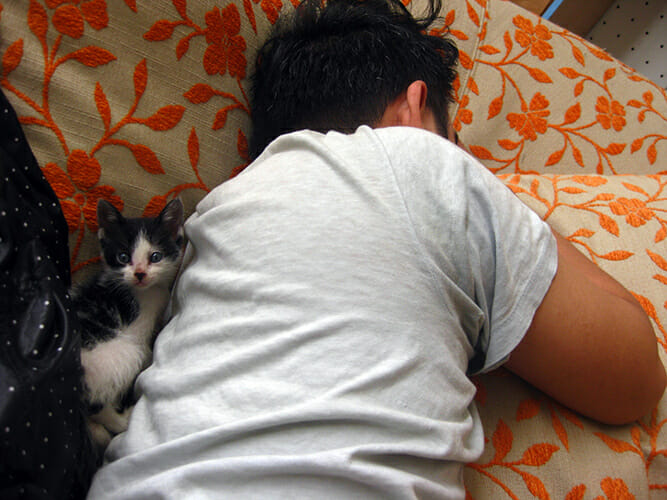 WF: How did you get into fostering and how long have you been doing it?
BS: I've been doing it for about five years now. I've fostered around five cats plus 15 chihuahuas. We usually fostered stray cats because we see them a lot. Most of the time, kittens are friendlier so they're easier to take in. I only took in an adult cat once because it was so agreeable and bereft of tomcat machoness.  
Fostering is the next step after one reaches the adoption limit, but we stopped fostering stray kittens after having Duyan because she is now our main priority. However, my husband and I still continue to Trap-Neuter-Return (TNR). Our animal advocacy shifted from fostering to spaying, which is the root of the stray population AND rabies problems. That's why I really believe in Doc Mace Licuanan's low-cost mass neutering mission. I donate and direct people to her Philippine Pet Birth Control Center Foundation (PPBCCF) whenever possible.
WF: How often do you do TNR in your community?
BS: Right now we just TNR one stray at a time. We were able to get two strays snipped this year. Before giving birth, I was able to coordinate and sponsor the TNR of 15 cats through CARA. I worked with CARA because they have a good setup: expert catchers, transport van (to and fro), and they'll house the strays for two to three days until they recuperate. I initially pitched TNR to our village, but it was not a priority to some people on the board and not given value. However, I still persevere. When things fall into place I hope to coordinate another mass TNR.
Some tips for people interested in setting up TNR projects: Make friends with like-minded people in the community and organise your own TNR. Also, time your TNR around free spay events by vet clinics and NGOs like PAWS. They'll probably time their causes in February (World Spay Day) and October (World Animal Day).
WF: You have an inspiring story about rescuing and rehoming 15 senior chihuahuas. Can you tell us more about it?
BS: I have a relative who used to breed chihuahuas. Two years ago, I finally had the nerve to ask the retired tiger lady if I could rehome her remaining senior chis. She agreed, and the first and biggest hurdle had passed. The 15 chis were being fed by the relative's part-time helper, but they were caged most of their lives.
I remember crying the first time the chis were let out. Some peed in excitement after being set down on the ground, a couple were catatonic and shivered in place. Their nails were so long and their limbs had atrophied. There was a lot of emotions (which I am processing until now), but it was not helpful to get angry at my relative. I pushed my emotions aside and focused on the task, breaking the process down so it became manageable. Facts: 15 senior chis needed to be rehomed. At the time, I had a one-year-old child whom I exclusively breastfed, four cats who acted like vengeful children, and a supportive husband and two helpers.
First, I brought the sickest looking dogs to our trusted vet. I footed their hefty medical bills. The vets' medical assessment and advice helped me plan the 15 chihuahuas' rehome timeline. It would reasonably take me four months. I fostered three to four dogs at a time, and they stayed in our house for about a month before the next rotation.
Each rotation had a lot of senior medication and vet visits (e.g. blood work, vaccinations, a lot of rotten teeth extractions), but also a lot of play, sun, and rest. To accommodate the dogs, we fenced in our small garden and kept them caged at night in the garage so the indoor cats wouldn't get too stressed. I had to network a lot, doggedly asking friends if they or their friends knew anyone willing to adopt these docile dogs. Thirteen chis were rehomed as scheduled, but two had heartworm and had to undergo further treatment. Our cats were pissed by then and caused us humans grief, so luckily, I found a foster for the two chis until they found their forever homes a year later.
There was one very sick senior chi, Lolo, who was still taken in and tirelessly cared for by a super adopter. She never gave up on him. I remember Lolo because even when he was underfoot, he would still look at us through the grills of his open cage. He got used to that existence. But for four months with us and his new furmom, he was a dog again.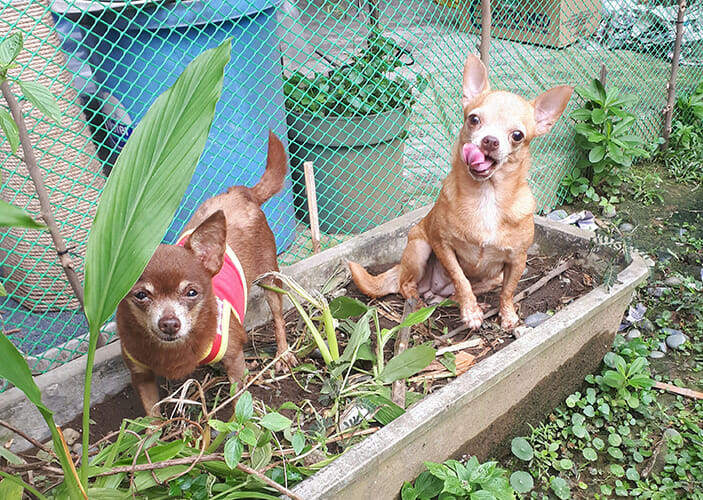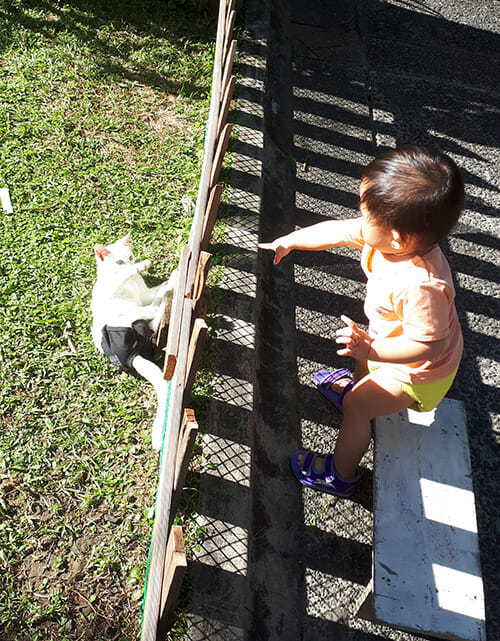 WF: Aside from fostering and rehoming 15 chis, can you share your most interesting foster story to date?
BS: We were maxed out at four cats. Two years ago, a kitten we've been fostering for two weeks (Papaya) snuck out and was attacked by a tomcat. Paralysed from the waist down, we knew his chances of adoption were slim so we took him in. We have to express his pee three times a day. Despite his injury, Papaya is a very active juvenile. Mealtime would have been a battle zone if he had four working limbs instead of two.
WF: What do you love most about fostering?
BS: It's less love and more a deeper sense of social responsibility for me. Fixing a stray population problem via this avenue (though TNR is what we do now). For the chihuahuas I rescued, it's about righting a wrong. After spending time with the dogs, I was driven to give them another shot at a love-filled life.
WF: What's the best tip you can give to foster parents?
BS: You have to realistically know WHAT you can deliver, and deliver well. But I think marketing skills define the best fosterers who are able to successfully rehome their wards. Especially in this digital age, you have to SELL SELL SELL that kitten with great content (beautiful photos, funny and catchy write-ups) before it loses kitten cuteness. Bombard rescue groups, and then do a background check on the interested adopters via their group administrators.
WF: When it's time to give away the foster, how easy or difficult is it for you?
BS: I think of my current clowder (more of glaring) of cats: I should take care of them first. And then be reassured that the fosters are going to good homes.
WF: Why would you personally encourage people to foster and adopt animals?
BS: Puppy mills are evil. The conditions are bad, and they just want to profit off the animals and you, focusing on quantity over quality. To stop fueling the abuse, some US states (soon UK) already forbid pet shops from selling commercially bred dogs and cats.
Every animal has a unique aura. They will surprise you and change your life. If you don't have the space and resources to adopt or foster, consider donating or volunteering at an animal rescue center. I encourage you to help PPBCCF, CARA, or Help Save the Laguna Pitbulls.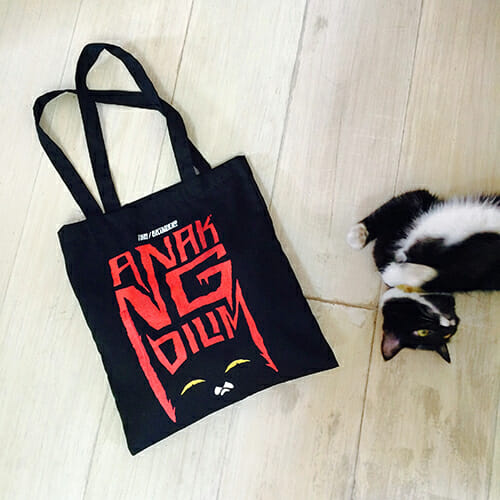 Follow Bru on Instagram to see the adventures of her chowder.
Read more rescue stories here! Do you know of an interesting pet adoption, foster, or rescue story? Share your suggestion with us by commenting below!